Search Engine Optimization or SEO is the process of having your website rank high in search engines. This method is crucial because it helps your site become more visible to potential clients and customers. Most visibility leads to better traffic quality, and it can invite curious users that are looking for answers that your business can provide.
It's safe to say that a website is your portfolio and digital home. Even when you have multiple social media pages, you will still need a website that contains everything you do. Before you start thinking about your website's designs and outreach methods, you should consider your digital strategy by getting an SEO consultant or agency.
This article will talk more about search engine optimization consultancy, and how you can find the right SEO consultant through basic questions.
Search Engine Optimization Consultancy
A search engine is a program that looks for websites based on corresponding keywords and keyphrases. It has crawlers that go through every text from every site on the world wide web. The search engine then publishes the results according to the relevance of the input. Search engine optimization is the system that ensures you rank high and favorable to search engines.
The entire search engine optimization process is technical and time-consuming to do on your own, which is why you need an SEO consultant instead of having an entire department. Most SEO consultants and agencies can do a variety of SEO-related tasks.
While you're looking through prospective SEO consultants, the first questions will be crucial to selection.
How to Find the Right SEO Consultant
An SEO consultant can help you make or break your web presence and your business. Hiring an SEO consultant should involve asking the right questions. In this way, you won't run into substantial SEO problems in the future.
Here are the key questions you have to ask your prospective search engine optimization consultant:
1. What should I include in my business value proposition?
A strong signal of any business comes from a strong value proposition. That's why asking an SEO consultant's insight about your business value proposition is essential. It's what sets your business apart from your competitors. If the SEO consultant doesn't even know what a business value proposition is, then it's a sign that he or she doesn't have a strong marketing background.
Your SEO consultant should also ask you about your current business value proposition. Answers that coincide or match have higher chances of success. That's why you have to be keen in choosing an SEO consultant; as one who comes from a trusted and experienced SEO company will have clear objectives and plans even before you start talking.
2. What does an excellent sales cycle look like?
A good SEO consultant knows the importance of internet marketing in customer acquisition. Depending on your brand and niche or industry, an ideal sales cycle means generating more traffic, leads, and sales. An SEO consultant who knows the worth of a new customer would help you with effective budgeting and developing a good business plan.
Choosing someone who knows well about your niche will likely do more for your business. It is because a specialized SEO consultant already knows your niche's sales cycle, what customers expect and demand, and what makes them frustrated to leave a website. Not knowing a sales cycle could be a red flag that your SEO consultant has limited knowledge of sales.
3. What is online marketing's level of success?
In the search engine optimization equation, a brand or business's online history is crucial. Google and search engines take a website's age and other factors as consideration. Asking this question will help you create a better perspective as to what the SEO consultant can foresee and contribute to the greater good of your company.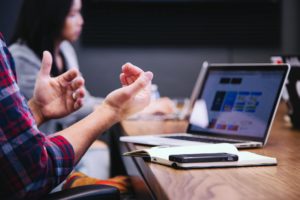 An SEO expert with the best combination of online marketing strategies can bring more benefits to your website and your overall business. While social media marketing, email marketing, and content marketing are some of the best ones, you can never be sure what will work for you if you haven't tried them yet.
That's why an experienced SEO consultant can help shed light on the shadowy parts of online marketing you haven't explored yet so you can attain success the first time.
4. What should our short-term and long-term goals be?
Always bear in mind that search engine optimization is for a long-term investment. Asking this question to your prospective SEO consultant will help you understand how the SEO services offered can influence and align with your business's goals.
If your SEO expert is telling you that you will reach the first rank in one month, then you should reconsider working with that person. He or she may be using blackhat SEO tricks, which might have you at the top of the ranks at the risk of getting banned permanently by search engines.
The search engine optimization consultant can give you a realistic overview of the project. You can talk about your business goals and ask the expert about its feasibility. If you're currently on the second page of a particular keyword, you might get to the first page after a few months. Depending on the SEO efforts that you want.
5. Can I see client projects with the best results so far?
Every successful SEO companies have a long list of satisfied clients. Since search engine optimization is a long-term commitment, you should find the consultant or expert that has proven results. Without these testimonials or satisfied clients, you might be putting your money in a company that can't guarantee your expected outcomes.
If you're the consultant's first customer, you won't have a solid campaign, but you can bargain for cheaper service charges.
Final Thoughts
There are a lot of SEO companies and agencies available all over the world. Having the right questions will make you more confident in your decision. This way, you can choose the best SEO consultant that will help you achieve your goals. Be in full control and arrange an SEO consultant who can bring out the best of your brand.