Ever heard of the saying "first impressions last"? I am sure you have.
If you had to go to a job interview, on your 1st day in the office, meet the parents of your fiance for the first time – i'm willing to bet you have applied this saying.
According to Forbes, it only takes seven seconds (7sec) within the meeting that people will have a solid impression of who you are – and some research suggests a tenth of a second is all it takes to start determining traits like trustworthiness.
Now that's not enough time to have a proper conversation going, but we must make what is due and hope for the best.
A Website is your calling card
Your business' website is the personification of your company online. It is your brand's calling card on the internet. This is where your brand interacts with strangers from around the world. People that don't know anything about what you sell or what you do.
And when a prospect happens to land on your page, your site needs to make that good first impression. If your website fails to do so, your prospects might leave and go to websites that do. Remember, a tenth of a second is all it takes.
Content is not always king
Content is King. But that isn't always the case. When it comes to making the best possible first impression on the web, I say Design is King.
Have you ever landed on a website and the site's spinning wheel keeps on turning and turning? I am sure you have at least once. What do you do? Do you stay or do you just search for a different website that matches your query?
Or have you landed on a page and the layout's a mess or the color is just wrong and you can literally hear your eyes screaming.
No matter how good your content is, a first-time visitor won't be able to read it. A Stanford study shows that 75% of consumers admit to making judgments on a company's credibility based on the company's web design. What they will first see is the design of your site, and judge you for that alone. If they don't like what they first see, off they go to visit your competitors.
Annelle Digital goes clean
In preparation for Annelle Digital's third year anniversary, we planned a redesign of our website. Our previous web design is already okay, but as the saying goes, you can always find room for improvement.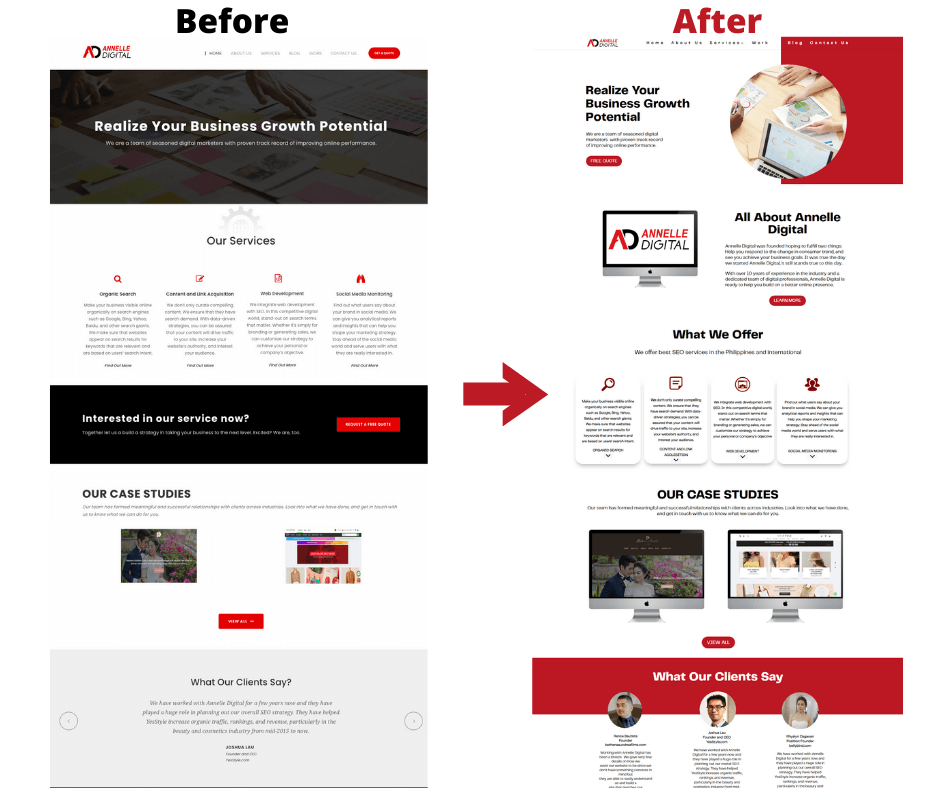 Annelle's team decided to go for a minimalist design for the new website which tends toward more whitespaces, better typography, grid layouts, and less color. Not only does it look better aesthetically, but a minimalist web design helps with SEO.
Web design affects SEO
Quality visual paired with great content leads users to stay a little bit longer on your site. When users take part and dive into your content, this signals search engines that your site is reputable and rank-worthy.
With the help of web design best practices, balanced with a good-looking site, web crawlers can index your site more quickly, boosting your rankings.
A simple and clean feel flows throughout Annelle's website. From the Services page to the About section.
When designing a website, you need to keep both the users and search engines in mind. It is advisable to invest in a good web design at the beginning.
What is your first impression of our new website? Let us hear in the comment section below.
Not sure how to combine a good web design and SEO? Message our team and together let us build a strategy in taking your business to the next level.